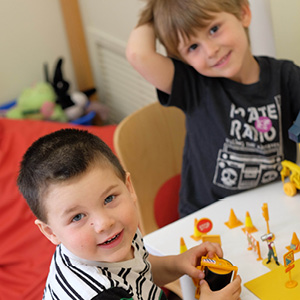 Giving to The Brookwood School is an investment in the next generation. The Brookwood School offers the only school-based, childcare within commuting distance for many families in rural, Northern Otsego County.
The Brookwood School, through the generosity of the school's donors, provides tuition assistance to children whose families may not otherwise be able to afford a quality, early childhood education. Donations contribute to advancements in Brookwood's classrooms through technology and other learning resources and the recruitment and retention of dedicated teachers. Special enrichment programs are funded through donations. The Brookwood School has made a firm commitment to the reduction in overhead expenses so that giving directly benefits the children we serve.
With the shift in public education towards a greater emphasis on standardized testing, The Brookwood School recognizes an emerging need in the school's elementary program to reach children, whose learning processes may not fit squarely within the public system. Our mission and philosophy embrace the elevation of a child's learning, in a direction and at a pace that is customized to the individual child. This approach, now more than ever, gives essential choice to parents and children.
Join us in shaping bright futures. We are grateful for any donation that you may grant.
Please call us at 607-547-4060 to submit a donation by credit card or send a check, made payable to "The Brookwood School," by mail to:
Director of Finance
The Brookwood School
687 County Route 59
Cooperstown, New York 13326