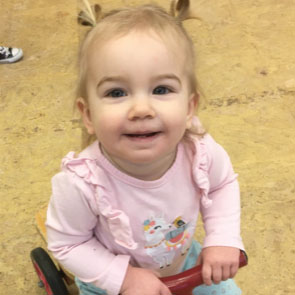 Infant Program
Our Infant Program provides a warm and stimulating environment for early growth and development for infants beginning at 6 weeks of age. Our nurturing and qualified care givers partner with families to provide individualized care. Infants in our care are immersed in love, affection and tenderness as they develop physically, emotionally and socially. A ratio of four infants to one care giver is maintained at all times during care. Our team is also CPR and First Aid certified and trained in developmentally best practices.
Each child is assigned his/her own crib and follows a personal schedule of eating, sleeping, and playing. Many children develop similar schedules so meal and play times are often shared creating additional socialization opportunities. Music, reading, art, interactive play and outdoor time are enjoyed by all throughout the day. Developmental milestones are shared and celebrated by both staff and families.
Toddler Program
Our Toddler Program supports the unique developmental needs of growing toddlers ages 18 months through 3 years of age. Toddlers in our care are guided to safely explore the world around them as they develop and strengthen their individual sense of self. Our cooperative care givers work closely with families to encourage each child's personal development in the areas of potty training, feeding, communication and socialization. Children are guided to build independence and self-confidence within a safe, consistent and nurturing environment. Our valued team members attend regular professional development training and CPR/First Aid Certification courses.
Our balanced program contains practical routines and exploratory play-times designed to expose children to the richness of the world around them. Children enjoy hands on crafts and activities daily as they strengthen and develop their sensory, motor, and language skills.